Entrepreneur Interview: Guillaume Kendall of Zedosh
We had the pleasure of getting to know, Guillaume Kendall, Founder and CEO of Zedosh, a seed-stage fintech building the rails to redefine the $400Bn digital advertising market. Their Attention Exchange® engine uses Open Banking and machine learning to connect financially relevant consumers to brands who pay the consumer (rather than big tech) for their attention to video advertising. Zedosh is the marketplace for the Attention Economy.
We chat to Guillaume about how the business started, what makes it unique in the market, as well as his hopes for the future of the business. Guillaume also shares some pointers for entrepreneurs thinking about starting their own business.
What was your backgrounds prior to setting up Zedosh?
My career has been spent working in sales across several leading technical advisory / consultancy business focused on the Fintech sector. My last role before going 'all in' on Zedosh was working with a leading UK bank on the implementation of open banking APIs.
How did the idea of Zedosh come about?
I've had lots of ideas but Zedosh is the only one that kept getting better the more I thought it through. I was on Instagram and kept noticing the same ad appearing time and time again. It was from Patch Plants, and I was already a (rather good!) customer of theirs. It became increasingly frustrating on two fronts. Firstly, it was pointless, wasted advertising that was interrupting my browsing and negatively affecting my feeling towards the brand and secondly, I expected more considering the amount of data I know I'm giving to Facebook. It struck me that if Patch Plants were able to advertise to consumers based on banking transactions and not cookies/tracking pixels, they might have left me alone for a while or maybe communicated something more personal, like 'thank you, here's a free pot'.
As time went on, Facebook found itself in increasingly hot water about its use (and abuse) of data and the ethics of its design and business model. The Netflix documentary The Social Dilemma followed the Cambridge Analytica scandal and preceded the most recent 'Facebook Leaks' which confirmed that Facebook knows full well the harm it's causing to our online and real-world communities. Brands are looking for an alternative model.
Open Banking provides the opportunity to re-direct the billions spent supporting Facebook's proliferation of inefficient marketing funnels, misinformation and hate into the consumer's pocket instead. We live in an attention economy after all.
What was most challenging about starting your own business?
Figuring out how to move my idea off a PowerPoint slide and into consumers' hands! Of course, it comes down to funding and as a first-time entrepreneur, I was surprised by the huge variety of options available, especially if you're willing to part with half your equity! Luckily, my fiancée is a corporate lawyer and so I was able to navigate carefully through the noise and raise enough via a Convertible Loan Note to build our prototype. In that process, we learnt that what seems straight forward on a PowerPoint slide is less so in code! Specifically, the ability to automate instant micro-payments to our users and overcoming some of Apple's reservations on our business model. But perseverance pays off and we've now made over 3.5k payments to our users via our app.
What is unique about your business in the market?
The concept of rewarding consumers for their attention isn't new. However, no one else is considering the underlying value of that attention. Using Open Banking, we're able to analyse and price the attention of our users. For example, we know immutably the total amount our users spend on coffee, Deliveroo or phone bills every month. If brands want to access that attention market, knowing the exact money value it generates, they should pay for it fairly and transparently, up front. Paying the target consumer is fairer than paying Facebook to interrupt them and makes us cookie and iOS15 proof, which are huge headwinds facing the $400Bn digital advertising market controlled by Facebook and Google.
What 2 personality traits do you believe make a good business owner and leader?
Empathy and optimism. It's critical to put yourself in other people's shoes and see the world from their perspective. Whether they're team members, prospects, clients or partners, no story is ever one-sided and to build productive relationships, you have to empathise with the other side's point of view. With regards to optimism, you have to have something that keeps you pushing forward when things aren't quite going your way! I believe what we're doing has the potential to democratise the internet and whilst that's a BIG vision, I'm optimistic about the journey ahead.
If you had the chance to start Zedosh over again, would you do anything differently?
Not yet, no. Every mistake we've made, we've learnt from, and I wouldn't risk getting to where we are today by taking a different path. We're still right at the start of our journey but very proud of what we've achieved so far with limited resources but an abundance of empathy and optimism!
What advice would you give to a young entrepreneur starting up their own business?
Marry a corporate lawyer! That's my top tip, but failing that, don't look back and surround yourself with people smarter than yourself. Starting your own business means you'll have to wear many hats; just this week I've been CTO, CEO and CMO! Bringing on people you trust to get on with things and that you can learn from will relieve pressure and help you grow as a leader – regardless of whether or not the business succeeds.
Where do you see the business going in the future?
Over the last 3 months, we have been building the engine that matches the right attention to the right content. We've called this our Attention Exchange®. The next step for us is to integrate our engine with other 3rd party apps and websites, essentially building the rails for a cookieless, fair and transparent value exchange between brands and consumers anywhere on the web.
How can firms and individuals, who come across Zedosh, support the business?
We'd love to hear from any B2C brands or media agencies who value the captive attention of relevant consumers. Our average video completion rate is 94% and CTR 16% for content up to 2 minutes long and unlike social media, a 'view' for us only counts when 100% of the content has been viewed to completion. With regards to individuals, as long as you have a valid UK bank account, sign up and put your valuable attention to work! Every penny earned is a penny in your pocket instead of Mark Zuckerberg's.
Any final words for our Bluebox community?
Thank you for your attention, especially if you've got this far! It's very valuable and I do appreciate it.
Rapid Fire:
If you could have one superpower what would it be? Time travel
One person, past or present, you would like to have dinner with? Napoleon Bonaparte
Three things to take onto a desert island? My fiancée (not sure she'd appreciate that!), nail clippers and Spotify
Life moto? Say yes more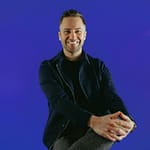 Contact: Guillaume Kendall, Founder and CEO
Email: Guillaume@zedosh.com
Number: +44 7888710383
If you're thinking about raising finance for your business and need some assistance, we would be delighted to have an informal and confidential chat to discuss your options in more detail. Book a call via this link or email us at info@blueboxvelocity.com.