Staff Interview: Oscar Draycott, Research Analyst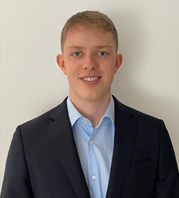 What was your background prior to joining Bluebox Velocity as a Research Analyst? 
I had recently graduated from Exeter University with a Masters in Mechanical Engineering. In November 2021, I went on to complete 2-weeks at an Investment Bank called KBW where I proofread sell-side decks and attended multiple strategy meetings involving directors and analysts. I began working for Bluebox Velocity in December 2021.
What were your motivations behind choosing a career in Corporate Finance?
Although it deviates from the usual path coming from an Engineering background, I learnt early on that the work shares a lot of the same characteristics. The industry seemed to fit my strengths well. I liked the constant harmonisation between the technical analytical skills alongside the softer more personable skills.
What is the best advice you have ever received?
Listen more than you speak.
What does a typical day look like for you at Velocity and what are you currently working on?
On a typical day, I spend most of my time constructing sell-side pitch decks and accumulating potential acquirers for our clients. Both these tasks tend to require the extrapolation of key market trends and the ability to paint a picture of the client's landscape to investors or acquirers.
What do you find most exciting about working as a Research Analyst for Velocity?
The best part about my role is the access you get to a broad variety of sectors. I also get to partake in calls with experienced management teams, diving deep into how the company operates.
We finish the interview and you step outside the office and find a lottery ticket that ends up winning £10 million. What would you do?
I would give half to charity as I didn't own the ticket in the first place. The other half, I would invest in the UK's Northern property market.
Other than London, where would you like to live/work and why?
I would love to move to Madrid. I spent a large majority of my 3rd year at University in Madrid, and I loved everything it had to offer, especially the food.
Rapid Fire:
If you could only eat one thing for a month straight, what would it be? Spaghetti Bolognese
If you could have one superpower, what would it be? Ability to fly
If you could have dinner with one person, dead or alive, who would it be? Ant Middleton
Favourite sport? Rugby
Morning or evening person? Morning